Every year, the Danville Historical Society releases a new Christmas ornament and new puzzle, designed to highlight a part of the River City's past. This past holiday season, we talked about the ornament and its connection to Danville's previous baseball teams. But to tell the story of this year's puzzle, we need to share some more city history.
First off, let's talk about how the puzzle comes together. Normally, a vintage painting or etching is the subject. With more than 100,000 photographs and nearly 100,000 pieces of art, furniture and other items in their collection, the Historical Society had a lot to choose from. But this year, they decided to do things a bit differently.
This year, the puzzle is all about wine labels. Yup, wine labels.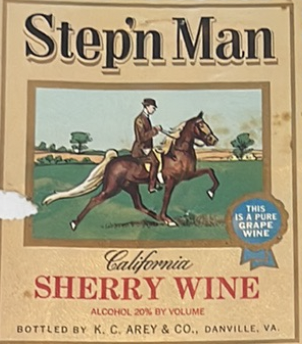 Now here's where it gets interesting. These are California wine labels, but if you look, they're all Danville themed. There's a Wreck of the Ol' 97 wine label. A Dan River label, and a Pride of Virginia label. And at the bottom of every single label, there's the name of the bottling company, K.C. Arey & Co., Danville, Va.
The journey from California wine to Danville's Ol' 97 is a fascinating one and involves an extraordinary family. The name is somewhat forgotten, but their effects on our city can be felt to this day.
The Story of K.C. Arey and Co.
It starts with Dugal Lindsey Arey. D.L. ran a distillery in North Carolina and was looking to expand his business. He sent his two sons, K.C. and E.L., up to Danville to set up shop, and they did. But once they arrived, the boys decided they wanted to try other projects as well.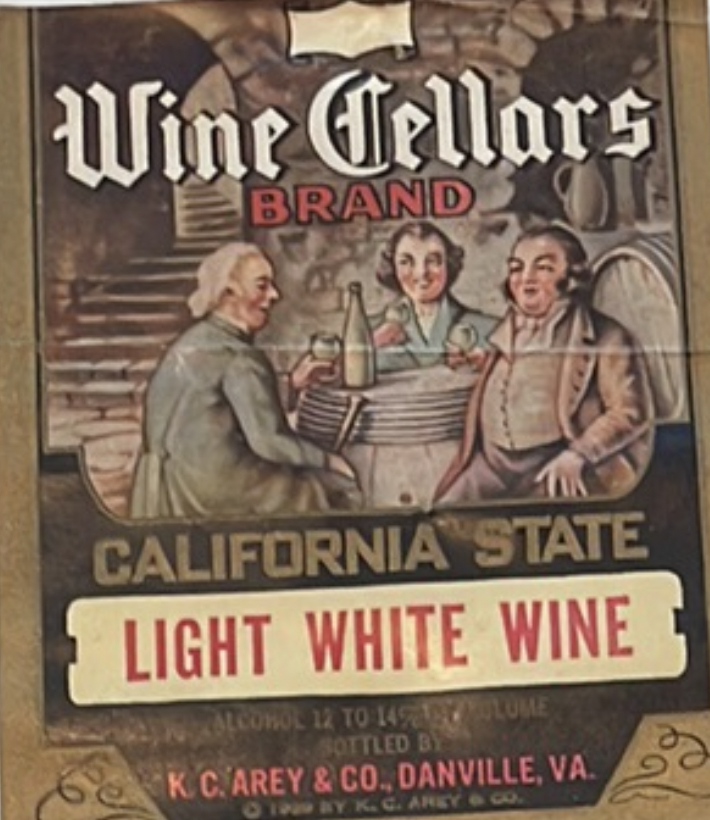 K.C. (Kerr Craig) did just that. He started a vacuum tire shop, helped build the Leeland Hotel, and opened Danville's first Cadillac and Oldsmobile dealership. He also owned a farm where he tested organic gardening and was a distributor for Gulf Oil. Basically, you name it and there was a good chance K.C. Arey had done it at some point.
And of course, he started K.C. Arey & Co.
When the bottling company started, it was decided to import the wine and bottle it locally with Danville- centric themes. One of the first was a tribute to K.C.'s wife Susie, whose family owned Shady Grove, a local tobacco farm. Old Plantation wine was an immediate hit.
By this time, he'd had a son, K.C. Jr. One of the first 12 men to graduate from Averett College, K.C. Jr. had insatiable curiosity. He purchased the Burton building. He bought houses and moved them to different areas of Danville. For fun, he decided to try skeet shooting and became the world champion in 1967. He became interested in Merrscham pipes and eventually collected dozens. He became fascinated with Rolls Royce cars, and at one point owned 28 of them. Everything was interesting to him, and that interest spurred him to become a bit of an expert on nearly any subject that caught his eye.
Much like his father, K.C. Jr. loved to draw. He kept a journal that he carried with him everywhere. Gently leafing through the pages, one can see scribbled ideas next to objects and people he sketched. Some are full of detail, and others only hint at his thinking. Also like his father, he tried his hand at designing and naming the labels for the bottles. Between the two K.C.s, they created dozens of labels, each with a different look and feel, and each one a mini work of art.
Take for example, the sherry wine "Step'n Man,"named after a family horse. The picture is dynamic and full of small details, like the grass under the horse's feet.
Arey's Son Sells the Business
In the 1970s, after it had become the largest distillery in the region, K.C. Jr. sold the business and retired. K.C. Sr. had passed in 1958, and none of the grandkids were interested in running it. After K.C. Jr. died in 1990, the small works of art he created became a vague memory.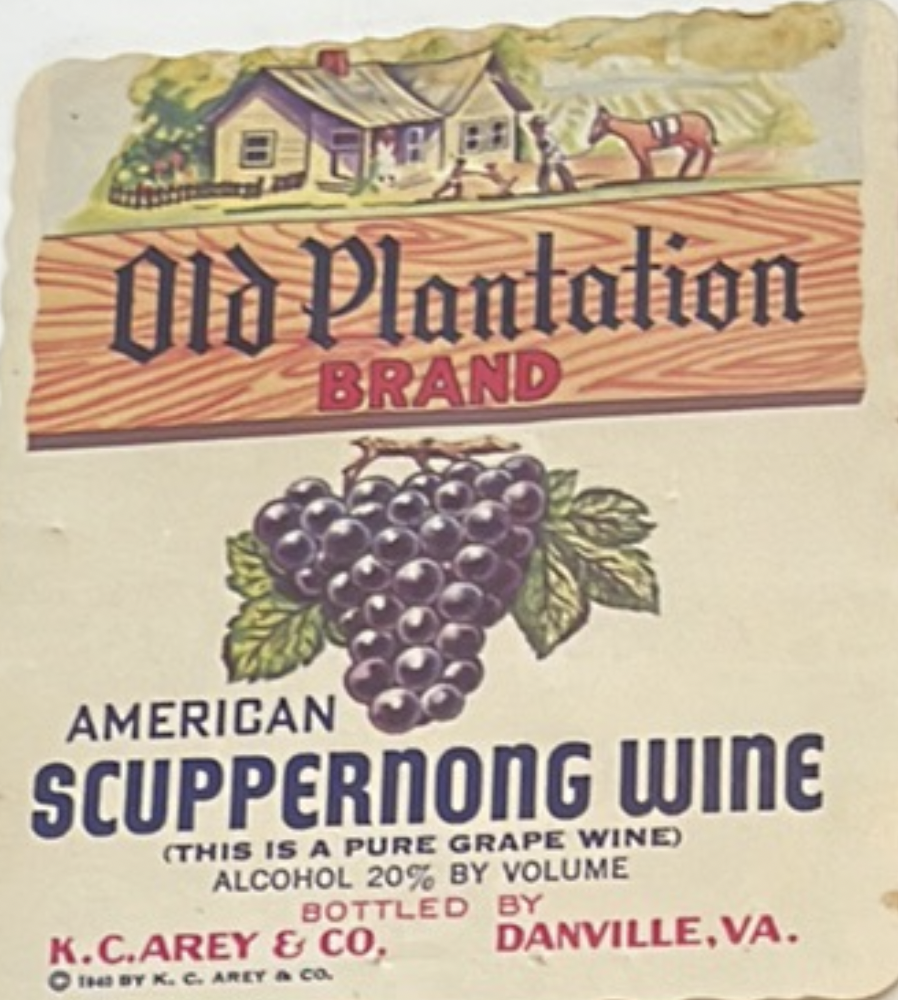 One grandchild, Mary Ann (Arey) Terry, still lives locally. On a beautiful fall morning, she brought out her father's art and laid it carefully on her dining room table for the Historical Society staff to see. Picture after picture, each one is completely unique. After a long discussion of her father and grandfather, she led the way to her own studio in the basement.
Art supplies were everywhere. Her main theme is also Danville history; mostly using tobacco leaves. When it was pointed out that Mary Ann comes from a long line of artists, she looked surprised, before pausing and smiling.
"Maybe I did get something of that," she said thoughtfully.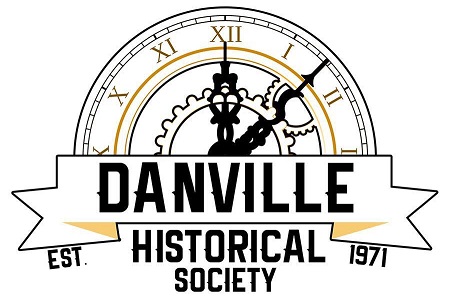 P.O. Box 6
Danville Va. 24543
(434) 770-1386
danvillehistorical@gmail.com
danvillehistory.org
@DanvilleHistoricalSociety
Danville Historical Society is proud to showcase some of the K.C. Arey labels on their new puzzle. The puzzles are available for purchase at Karen's Hallmark and Main Street Art Collective, where Mary Ann's art is also available.