In October of 1922, the first football game was broadcast on the radio, the first-ever emergency airplane exit happened, the first female senator was sworn in, the first plane took off from an aircraft carrier, and B.G. Saslow was opening the very first of many Saslow's & Henebry's Diamond Jewelers in Greensboro, NC.
Arriving at the New York City docks at eight years old from the Ukraine/Belarus area, he went on to fulfill the "American Dream:" if you work hard, you can be and do anything you set your mind to. It is America, the land of dreams and opportunity and the reason so many of our ancestors left all they knew to stake their futures to a new land. Over the past 100 years, many wars have been fought, human equal rights in the U.S. have been fought for and won, Alaska and Hawaii became states, America suffered the Great Depression (just seven years after Saslow opened his first store), shuttles exploded, and hurricanes destroyed. But the American Dream persisted and was realized by so many, including B.G. Saslow, then his son Everett, and now his grandson John.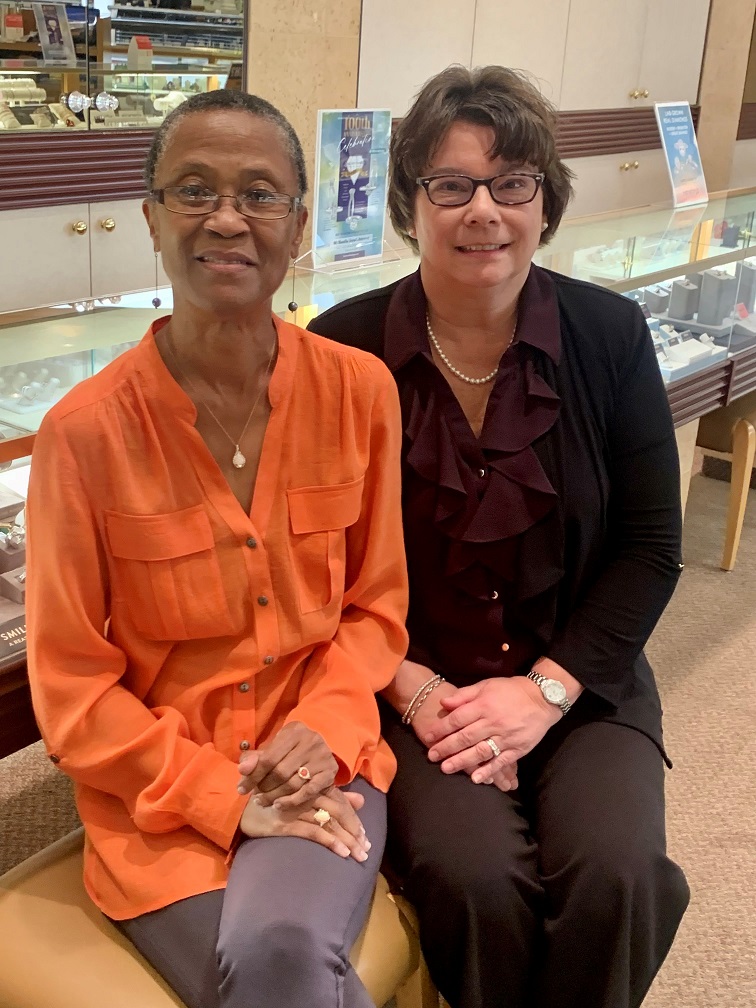 Through 100 years of changes and events that happened in warp speed, fast forward to October 12, 2022. I am on the phone talking to one of John Saslow's secret weapons, his Danville Henebry's store manager, Cindy (Hicks) Pinekenstein. It was exactly 9:22 am, and we had been talking for almost an hour when a potential customer walked up to her still-gated storefront in the Danville Mall. I hear everything over the phone: she says, "We open at 10 am," then he says, "I have to go to work," to which she replies, "Give me a minute, I don't have my product out or my register open, but I will open for you and show you what you need." I immediately said, "Bye, we'll talk later, go take care of him!" Now, really consider this; when was the last time you had a store worker treat you as amazingly important as she did this gentleman? If ever? Like I said, she is Saslow's secret weapon. Well, one of them anyway.
Pinekenstein has been in the jewelry business for 35 years, in the current Danville Mall location for 32 years and with Saslow's/Henebrey's for 13 years. Her staff includes one full-time employee and five part-time employees, mostly long term. Like Ruthie, Pinekenstein's full-time employee of 17 years. Both Pinekenstein and Ruthie are Danville natives. Ruthie worked for Belk-Leggett for many years. Perhaps you recognize them from the photograph?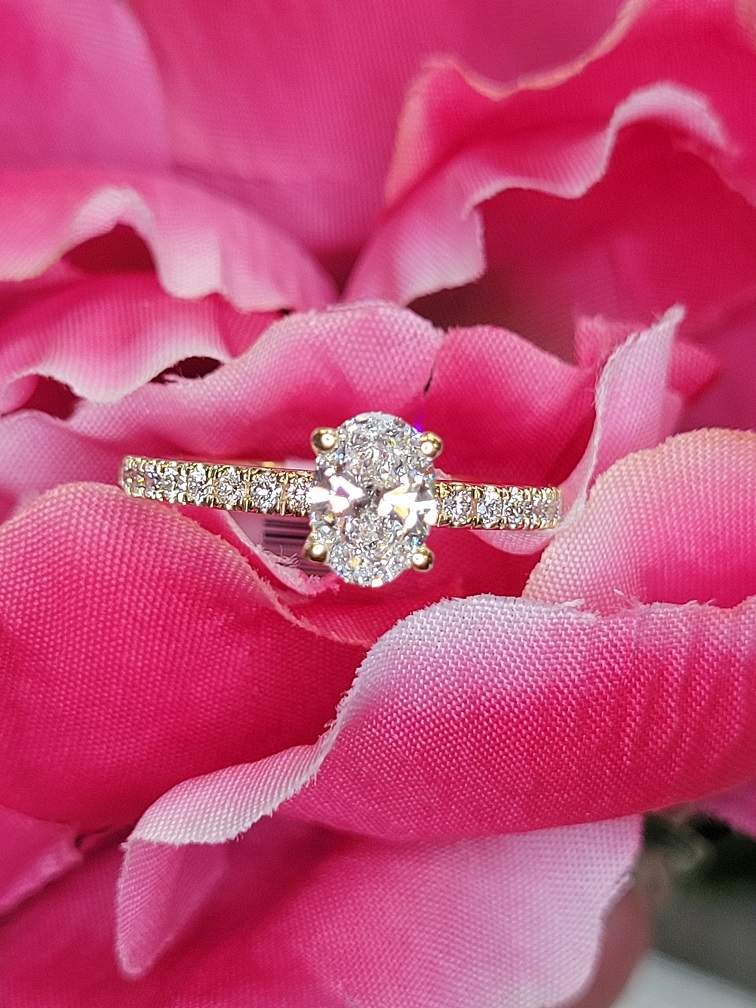 Pinekenstein says listening more is the key to helping guide her customers through some of the most meaningful and happiest times of their lives. Her own happy story also happened at the store when one random day, a former acquaintance from George Washington High School, Todd Pinekenstein walked into the store for a watch battery and small jewelry repair job. Cindy replaced his $5 battery and said, "Your repair will be ready tomorrow, but I am not working tomorrow. My staff can help you." Well, Todd waited until the day after that to show up and pick up his repair, when she was back at work. Their first date was in July, and in October he bought her ring (yes, from the store, kept a secret by her staff).  In December they were engaged, and they married in June. Together they have a blended family with four awesome children and a very important family member, Gus the German Shepherd. They are active in Danville's College Park Baptist) and Todd is a superintendent with the City of Danville. Cindy says she loves the hometown feel of Danville and she is also excited about the new energy flowing into the city with the River District growth and downtown shops.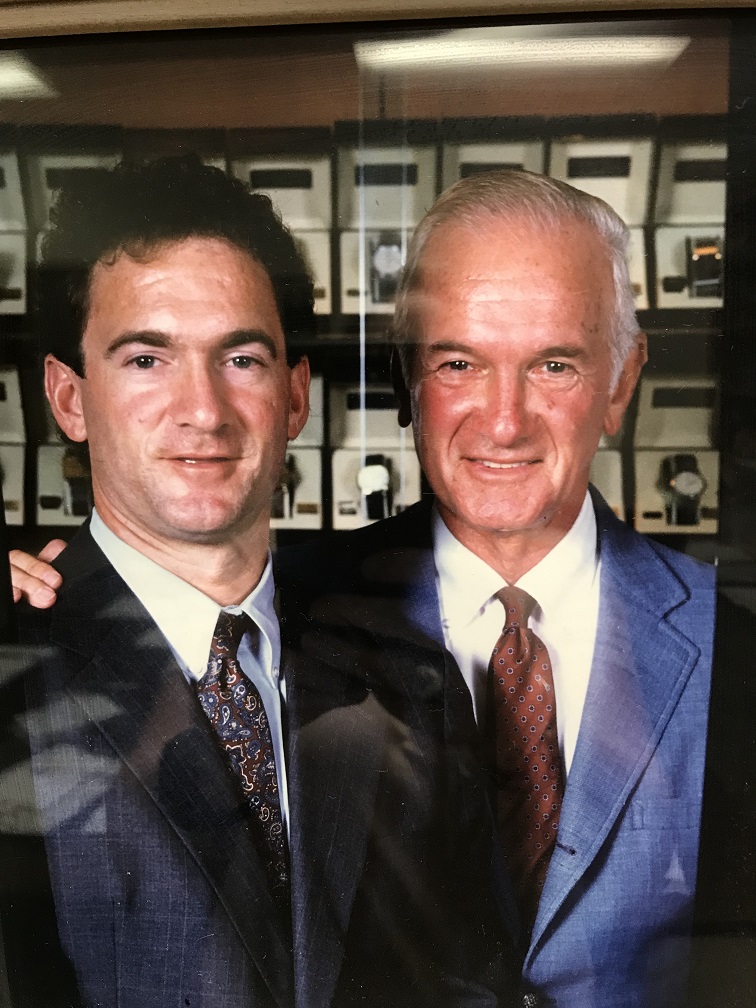 She is also impressed with the owner of the business, John Saslow. When he hired Cindy in 2009, he was acquiring jewelry stores and growing the business when others were not faring so well. He was also one of the first to be open to the new and innovative lab-grown diamonds.
Lab-grown diamonds are real diamonds, created in less time, are less expensive, conflict-free, and gorgeous – a win-win all around. Lab-grown diamonds, according to CNN Business, are surging in popularity and in sales, seeing a whopping 63 percent jump in 2021 in engagement rings alone. Weddings are booming again, and they are bigger and more expensive than ever.  Of course, Saslow's & Henebry's still sells natural mined diamonds as well, and are very careful about how and where their natural diamonds come from: conflict-free with fair wages and conditions for workers through the Diamonds Do Good initiative.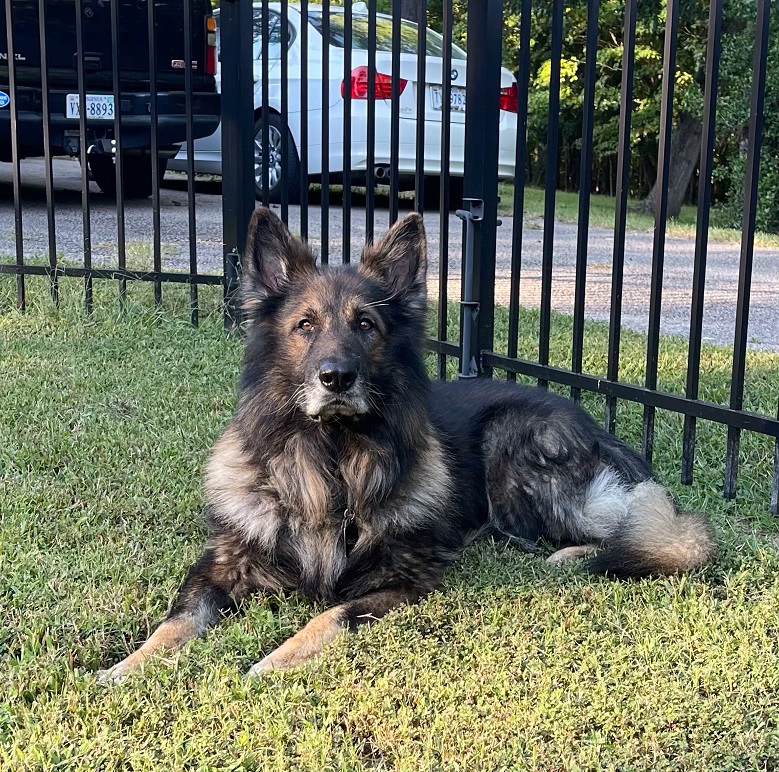 So how did a jewelry store get on the radar for an article in Hyco Lake, River City Area, and SoBo Halifax Magazines? Cindy remembers the editor, Peter Berry, and his wife, Chris, paddling over to her family dock across the cove on Hyco Lake about three years ago. They had been lake neighbors for years but had never met until then. Todd's grandfather and family had built the Pinekenstein's cottage 53 years ago; it's still in the family and they still go there regularly to enjoy beautiful Hyco Lake. Longevity, tradition, and family – Cindy stresses that along with her amazing staff and amazing customers throughout the years, these values are what make Saslow's & Henebry's so unique, special, and successful.
Saslow's & Henebry's are offering fantastic sales to celebrate their incredible 100 years as a family-owned business. Besides in-stock items, they can special order and even custom make any piece of jewelry imaginable.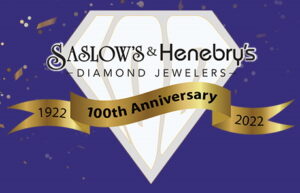 Henebry's Diamond Jewelers
325 Piedmont Dr. #305
Danville, Va. 24540
(434) 799-1224
https://www.saslowshenebrys.com/
https://www.facebook.com/SaslowsHenebrys/
https://www.instagram.com/saslowshenebrys/
Located inside the Danville Mall
JoAndra (Jo) Proia is a freelance outdoor writer originally from Oxford, NC. She lives in Summerfield, NC and owns Outdoor Women by Jo Proia, LLC, a company dedicated to educating, empowering, and exciting women about the outdoors.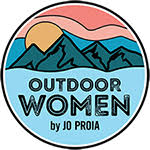 Text or Call: (336) 202-4220
jo@outdoorwomenbyjp.com
www.OutdoorWomenByJP.com
www.facebook.com/outdoorwomenbyjp