When one young family in the Hyco Lake area was faced with the devastating diagnosis of cancer, they decided to use their passion for water and watersports to support others and raise awareness about the disease.
Brandon Patrick said he "distinctly remember[s]" feeling "so negative" and overwhelmed when he learned that his wife, Stacy, had breast cancer. Spending time on the water has always been like therapy for them both, and he owns and operates NC Marine Sales in Semora. To honor and support his wife, deal with his own emotions, and raise awareness in others, Brandon decided to use his talents to build a boat that would bring attention to Stacy's fight and that of others dealing with cancer.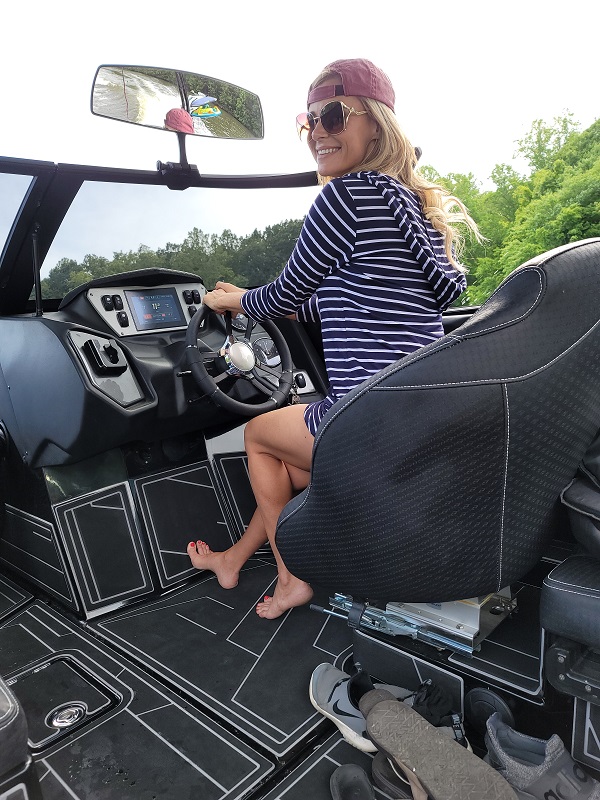 "I'm just a husband who wanted to be supportive and help [his wife] stay positive," Brandon explained. Stacy, he said, "was a rock star" throughout her diagnosis and treatment. While fighting their own battle, the couple ended up starting a ministry dedicated to helping others.
Stacy said, at age 38, she discovered a lump during a regular breast self-exam. This was in September of 2020, and she believes that the stress of living in and trying to deal with the Covid-19 pandemic while running a business and raising two children played a part in her illness. (Stacy owns and operates Your Mobile Technician.)
After finding the lump, she went to her doctor, who was concerned and immediately scheduled Stacy for tests at the UNC Cancer Center. From there, she underwent mammograms, ultrasounds, and a biopsy. A few days after the tests were complete, she said she received a call that turned her "life upside down."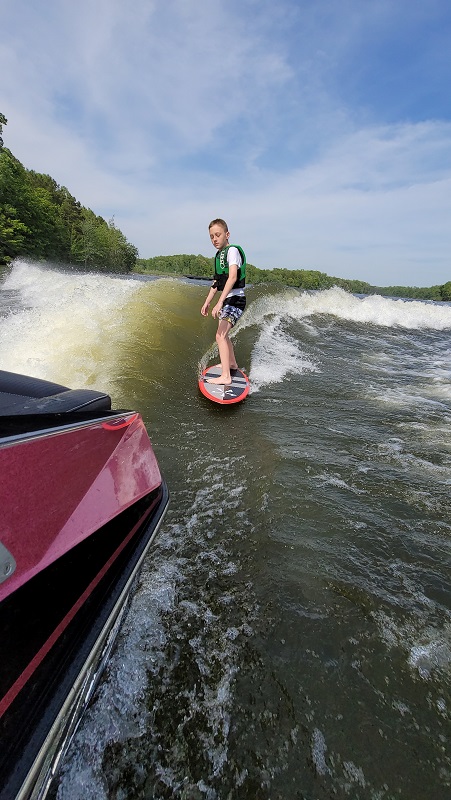 Following a month of "testing, decisions, and praying," Stacy said, she had a lumpectomy on Nov. 17, 2020. She was "blessed with clear margins," she said, and chose not to have chemotherapy. She did undergo five weeks of daily radiation, however. She said, because they weren't in school, she took her children, Cooper, 10 and Tanner, 7, on the 90-minute drive to Chapel Hill with her for her treatments.
The Patrick family got through the ordeal, thanks to their love for each other, to prayer, and to their commitment to turn their ordeal into a ministry for others. In June 2021, Stacy received the good news that she had "no evidence of disease." She still suffers side effects from the radiation, however, and must take a chemo pill called Tamoxifen every day for the next 10 years. Tamoxifen has its own host of side effects she must continue to deal with.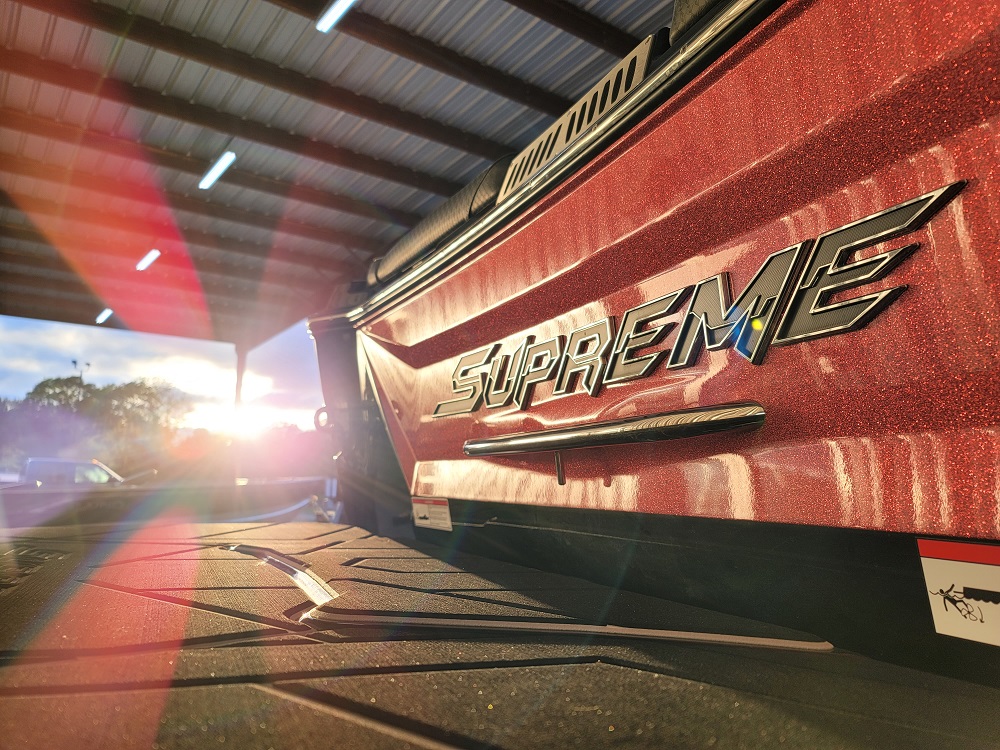 But, both she and Brandon say they are blessed and want to give back as much as possible. They use the two pink boats Brandon built with the Make-A-Wish Foundation to help fulfill the dreams of critically ill children. The Patricks take veterans and first responders out on the water, as well as cancer patients. They work with group homes. And, said Brandon, they work with children to teach them, "bring joy to them," and give them a sense of accomplishment.
Brandon said the thing that most shocked him about Stacy's diagnosis was her young age – just 38. He uses the boats to try to make others aware that cancer can strike anyone, at any age.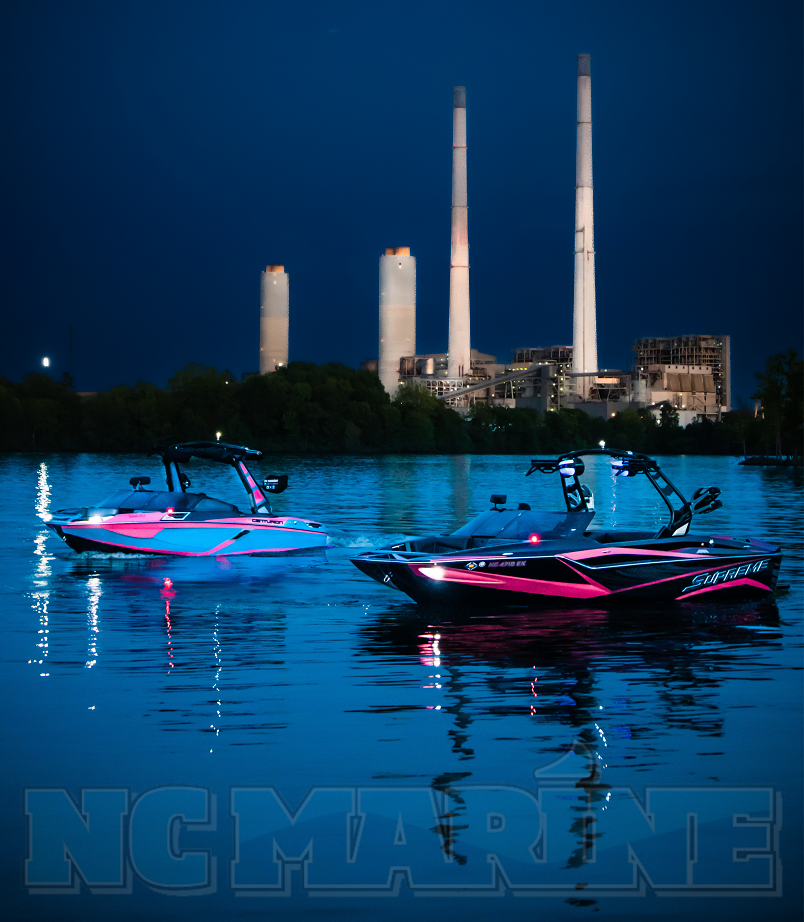 The couple, who were high school sweethearts and have been married for 18 years, support as many events as they can that raise awareness about and funds for cancer. Whenever possible, they put their pink and blue boat in the water to draw attention to a disease that affects so many. The boat also features ribbons that symbolize other types of cancer. (The first pink boat was purchased by a couple who live at Hyco Lake.)
Stacy said that, while "everyone's experience is so personal," she would advise anyone diagnosed with cancer to research and advocate for themselves. She said there are many treatments available that doctors don't always make patients aware of. "It's really important to do your own research," she said, "and trust your intuition" when deciding on a plan of care.

33 Skylark Drive Semora, NC 27343
(919) 867-1880
https://www.ncmarinesales.com/
NC Marine is a boat dealership and service center serving the Triangle area. The Patricks are proud to carry a large selection of new and pre-owned inventory and boast of friendly and knowledgeable sales, financing, service, and parts departments. At NC Marine Sales, say Stacy and Brandon, "We value the opportunity to create a long-term relationship with our customers, and we do that by giving you the best customer service available.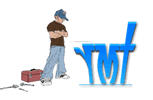 (919) 730-9105
https://yourmobiletechnician.com/
YMT Corporation offers customers the convenience of on-site repairs and services for boats, skis, and trailers. Their competitive pricing and aggressive multi-boat discount structure gives patrons the opportunity to maintain a single boat or an entire fleet. Stacy said there was "No need to stress about how you are going to find the time to get your vessel serviced; we bring our professional services to you. Wherever you are on the water or on land we can tailor a plan to suit individual or company requirements.
Learn about the author at https://ncvamedia.com/authors/phyliss-boatwright/