This year marks an important anniversary in Person County business, banking, and life. Roxboro Savings Bank has, for the past 100 years, been a staple in Person and surrounding counties, and is celebrating, along with the community, a century of strength and service. It is one of the longest- serving banks in the state of North Carolina.
Depositor Owned
As a mutually-owned financial institution, the bank is somewhat of an anomaly as well. Very few banks today are owned by their depositors and operated by people who live in the community in which the bank does business. Chief Executive Officer (CEO) Keith Epstein said, given that Roxboro Savings Bank has no stockholders, there is no financial incentive to "sell" or "merge," as is often the case with larger, investor-owned institutions. He said, "Local customer support has allowed us to remain profitable. We are committed to fulfilling our mission to provide a safe and convenient place for local depositors to invest their savings and in turn reinvest those funds locally in the form of loans."
Last year, in fact, with the highest level of inflation in 40 years creating challenges for the individuals and small businesses the bank serves, Roxboro Savings Bank "did not lose a single penny in [its] loan portfolio," said Epstein. He added that the bank "worked creatively" to continue to offer reasonable rates and products to its customers. "We are determined to be a catalyst for prosperity in our community. Investing in revitalization projects, extending credit to small businesses, and financing new homes for hard-working families (our friends and neighbors) are all part of our mission."
Epstein added that the depositors – or owners – of the bank elect a Board of Directors, which gives the depositors a direct influence on the way their bank is operated.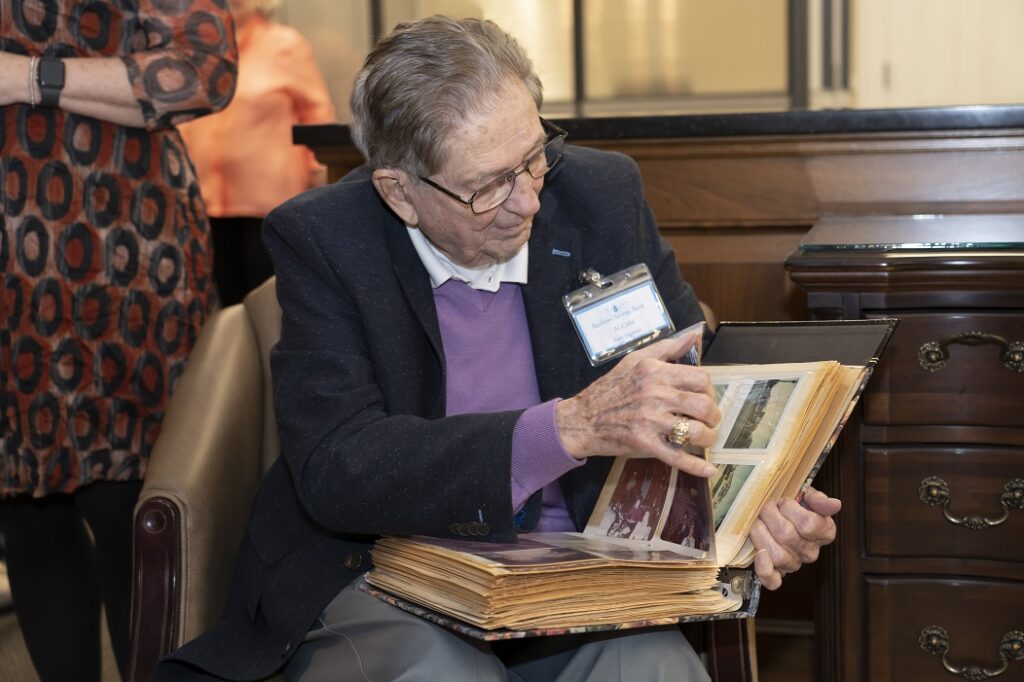 Neighbors Helping Neighbors
CEO Epstein said the bank prides itself on "friends and neighbors helping friends and neighbors. We live, play, worship, and raise our families in the same communities that we serve as bankers."
One of the many ways in which Roxboro Savings Bank employees help the community is by volunteering. Every year, they volunteer in schools, where some read with younger students. Employees regularly serve in the "Reality Stores" that give middle and high school students a look at budgeting and paying bills.
The bank also holds an annual Shred Day, combined with a food and pet supply drive in support of local agencies in need. For the past 14 years, the community has been able to take sensitive documents to Roxboro Savings Bank on Shred Day for safe, secure disposal. Employees and their families help with the event.
Adapting to Changing Times
Epstein said, over the past century, the bank has continually adapted its services to suit the times and its customers. While continuing to focus on local construction and residential lending, Roxboro Savings Bank has evolved into a full-service financial institution offering small business and consumer loans as well as a full range of deposit products.
"We offer our customers the convenience of digital delivery channels and traditional in-person banking. We have invested in technology and our people," he said. "Online services are provided to complement, not replace, the personal service provided by a community banker."
In 1998, a branch was opened in Timberlake, to better serve the southern part of Person County. Today, both offices of Roxboro Savings Bank have bilingual staff.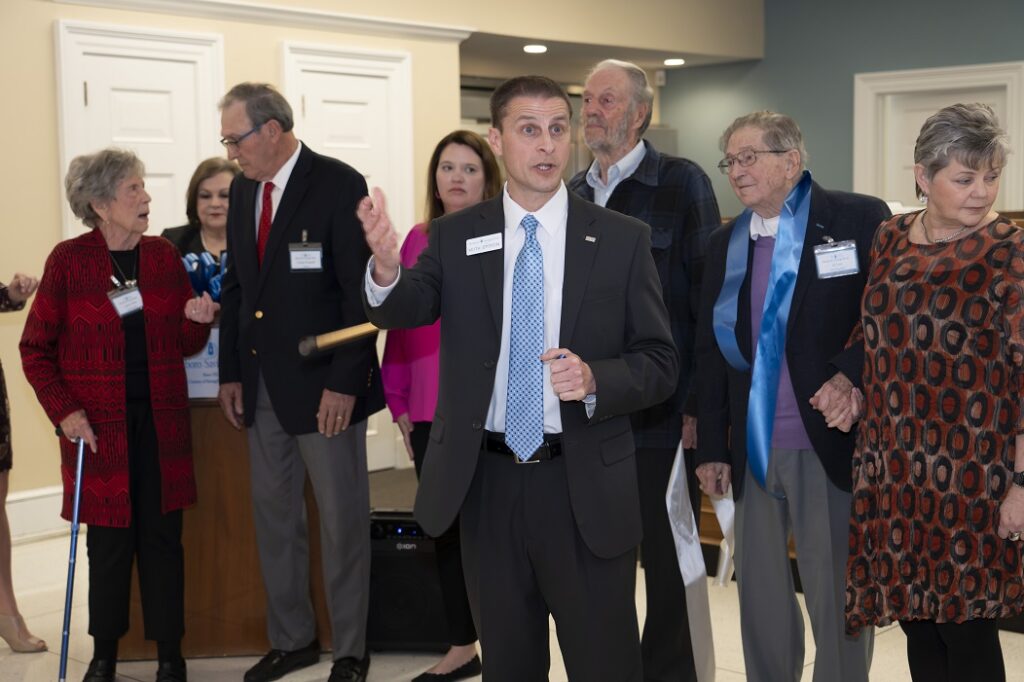 Growth in Uncertain Times
Epstein said the bank's "ability to supply credit to the local markets we serve is contingent upon the depositors who own the bank trusting us with their savings. In 2022, we grew our deposit base by $14,780,014, or seven percent over the prior year, to end the year with total assets of $292,760,239."
During the bank's 2022 Annual Meeting, Epstein said that deposit growth fueled the asset expansion. According to the Federal Depositors Insurance Corporation (FDIC), as of June 30, 2022, Roxboro Savings Bank held over 41 percent of all bank deposits in Person County.
"Despite economic headwinds" in 2022, said Epstein, Roxboro Savings Bank "delivered another year of outstanding financial performance . . . and reciprocated the community support we have enjoyed for a century with the largest donation in the history of our company."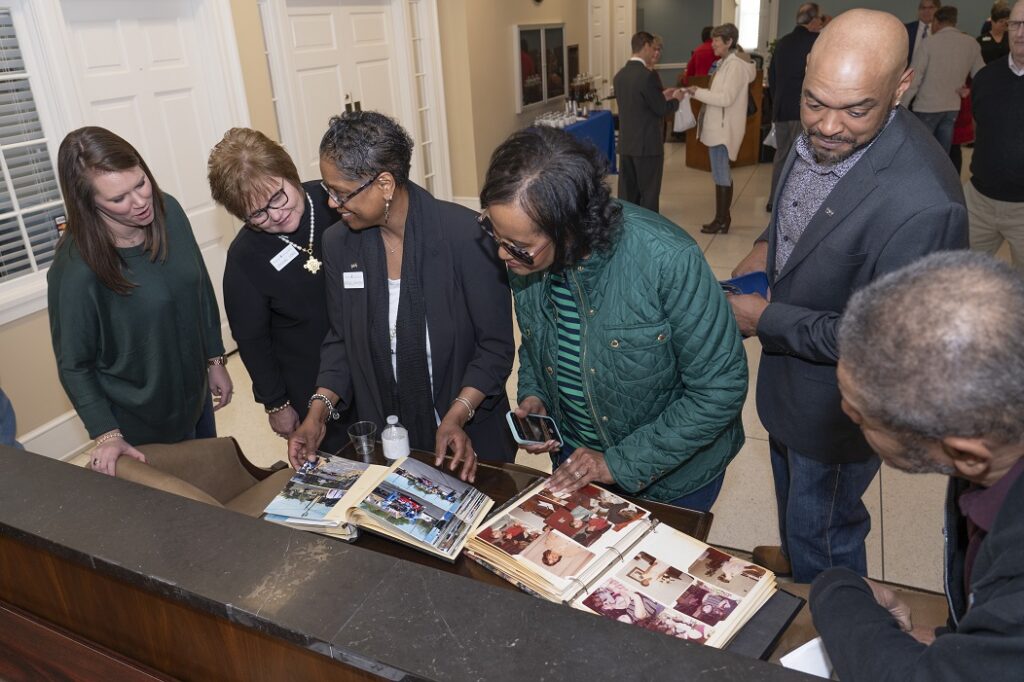 A Huge Gift to The Community
That donation resulted in The Roxboro Savings Centennial Park on Main Street in Uptown Roxboro. Due to the bank's support, what had for years been an abandoned, dilapidated building was renovated and transformed into a pocket park that Personians and visitors can enjoy year-round.
The City of Roxboro announced in January of 2022 that it would allocate $150,000 toward completing the creation of the pocket park. But, said Mayor Merilyn Newell, "changes in supply availability significantly changed the bids for the project. Uptown Roxboro Group pledged $5,500 toward the project, but there was still a significant gap in funding for completion."
Newell continued, "It was then that Roxboro Savings Bank decided to step forward and allocate the remaining funds in the amount of $186,100 needed to complete the project." She said, with the park completed and the public enjoying it daily, "we are most grateful . . . for this exceptional gift."
Epstein said, "This beautiful space can be enjoyed by all residents and visitors to the city for whom we are named and represents our appreciation for a century of support."
A Rich History of Service
Over the past century, Roxboro Savings Bank has grown and expanded its services to meet the changing needs of its customers and community. In 1923, it was chartered and opened as Roxboro Building and Loan on the second floor of the Roxboro Cotton Mill Building. John S. Walker and his nephew, J.C. (Bill) Walker, were the founders and Bill Walker went on to lead the bank for over 70 years.
In the 1970s, the bank became known as a savings and loan. Since 1992, it has been a state-chartered bank and has been known as Roxboro Savings Bank. From its inception, fairness, trust, and service have been the foundation of the bank's approach toward doing business.
Former Executive Vice President Leon Long oversaw the evolution to Roxboro Savings Bank during his tenure. Long followed Bill Walker as managing officer in 1985. He was followed by Jugrette T. Whitt in 1996, Shelby S. Dixon in 1999, Jane Long in 2003, and now Epstein who has served as lead community banker since 2017.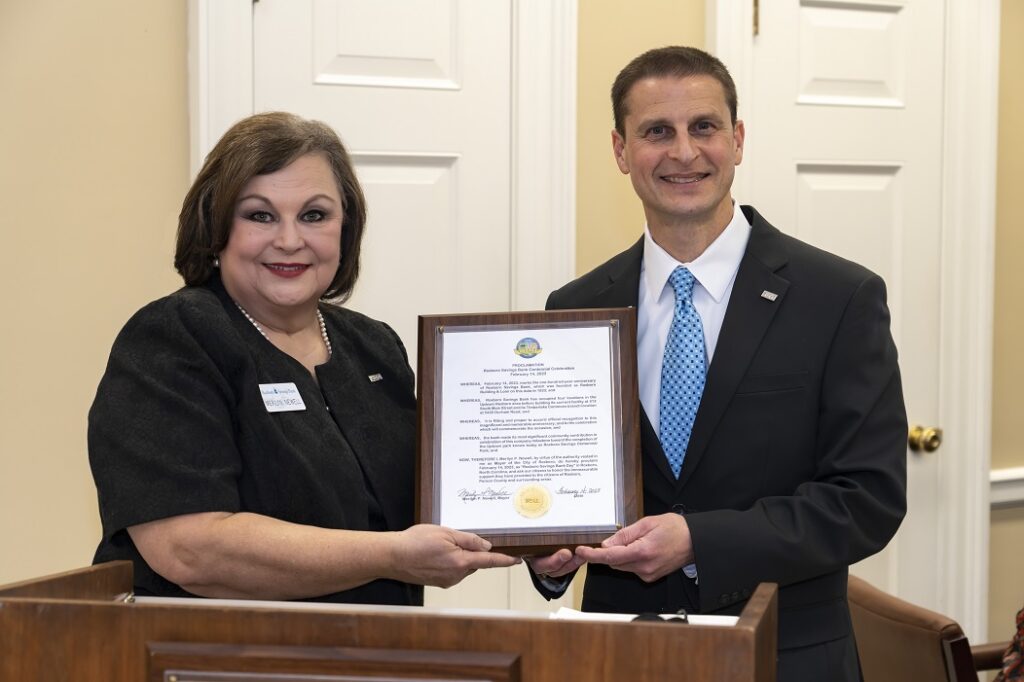 Celebrating a Century of Strength
Throughout this year, there will be customer appreciation days with giveaways and prizes. All customers will be automatically entered in the drawings so that everyone has a chance to win.
In its mission statement, Roxboro Savings Bank pledges to "be responsible and caring partners in the communities we serve, and we aspire to set standards of excellence that will reward both customers and employees."
That mission was evident on February 14, 2023, when the bank officially celebrated the end of its first century and the beginning of another 100 years of strength and service at the main office in Roxboro. The community was invited to stop in for refreshments and fellowship.
Roxboro Mayor Newell and Person County Commissioners Chair Gordon Powell issued proclamations and Peter Gwaltney, President and CEO of the North Carolina Bankers Association, made comments.
In his remarks, Epstein told attendees, "The self-reliance and mutual determination of the people of Person County was displayed on Feb. 14, 1923. Exactly 100 years ago today, citizens pooled their resources to capitalize Roxboro Building and Loan Association and the dream of home ownership became a reality for families, who in return provided their neighbors with dividends on their savings. Today," he continued, "Roxboro Savings Bank has a uniquely vested relationship with this community. We can only prosper when the local economy is healthy, and we invest locally to promote financial security and growth. Funding still comes from local depositors, who continue to own the bank. Because of their loyalty, and the retention of profits consistently earned year after year, we have never had to rely on outside sources of capital. Our success over the past century is a testament to the character of our customers," said Epstein, as well as "the hard work of bank employees, and prudent management through a series of historic challenges."
He added, "For 100 years, (across five generations) we have worked hard to be the bank envisioned by our founders. We thank all of our customers and stakeholders for your incredible patronage and trust. We are extremely proud, and deeply grateful, as we celebrate our first century of service and begin our second."
Those attending the celebration were treated to refreshments and goody bags as well as a commemorative "coin" celebrating the bank's century of service.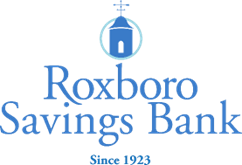 Main Branch
313 South Main Street
Roxboro, NC 27573
(336) 599-2137
Timberlake Commons Branch
5420 Durham Road
Roxboro, NC 27573
(336) 599-1096
Phyliss Boatwright is a journalist who for years reported Person County news in The Courier-Times. She has published two books and several short stories. Her book review show, Turn the Page, can be heard on WKRX, 96.7. For the past 11 years, she has taught journalism and served as public information officer at Roxboro Community School. She can be reached via email at phylissboatwright@gmail.com.