I invite you to take a walk with me; not down a winding dirt path filled with scented pine trees or merrily skipping through a field of sunflowers, but on the paved streets of a historic district that comes back to life. Friends, I welcome you to casually stroll through downtown South Boston, where local entrepreneurs and businesses thrive by giving a southern greeting and supporting the economic growth of the community. Today, we will not fly by in a car or quickly pass through into the next city; instead, we will take a moment to bask in the cheerful delight of my hometown.
Downtown South Boston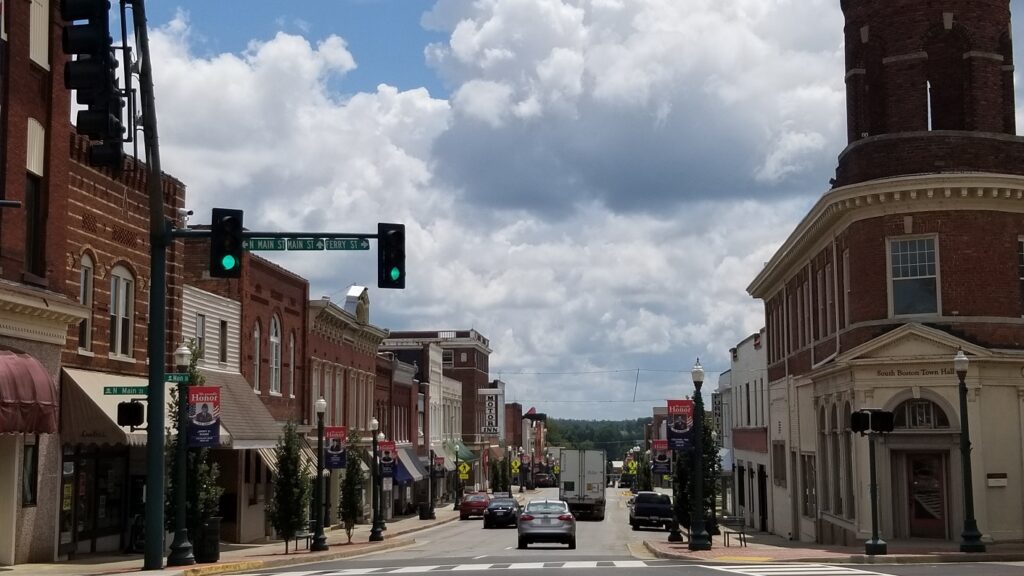 Lining both sides of the downtown streets are historic brick buildings, home to local shops where hardworking men and women grow their businesses to create legacies that future generations will continue. Discover mini fashion and home shops like Mother Cluckers and Distinct Impressions, beautiful florals at Wister's Florist, and hometown financial institutions like First Horizons Bank. With so much available to residents today, downtown South Boston maintains its notable character of the past.
Whether you're looking for a big, southern, homemade meal or a quick delicious drink and treat for breakfast, both options are readily obtainable. During the week I like to start my day with a stop at The Busy Bean where colorful characters light up the room and the smell of freshly brewed coffee fills the air. Often I will see my neighbor or an old classmate from Halifax County High School and simply take a second to connect before continuing my day. In our town, it is common to see an associate, dear friend, or coworker.
On other days during the week when I feel like something light and nutritious, I go to Cheers to enjoy a freshly made protein shake filled with everything I need to start my day feeling energized. The first time I entered Cheers' brightly lit space – permeated with positive vibes – I knew it would be unforgettable and not my last time.
Life, Laughter, and Good Times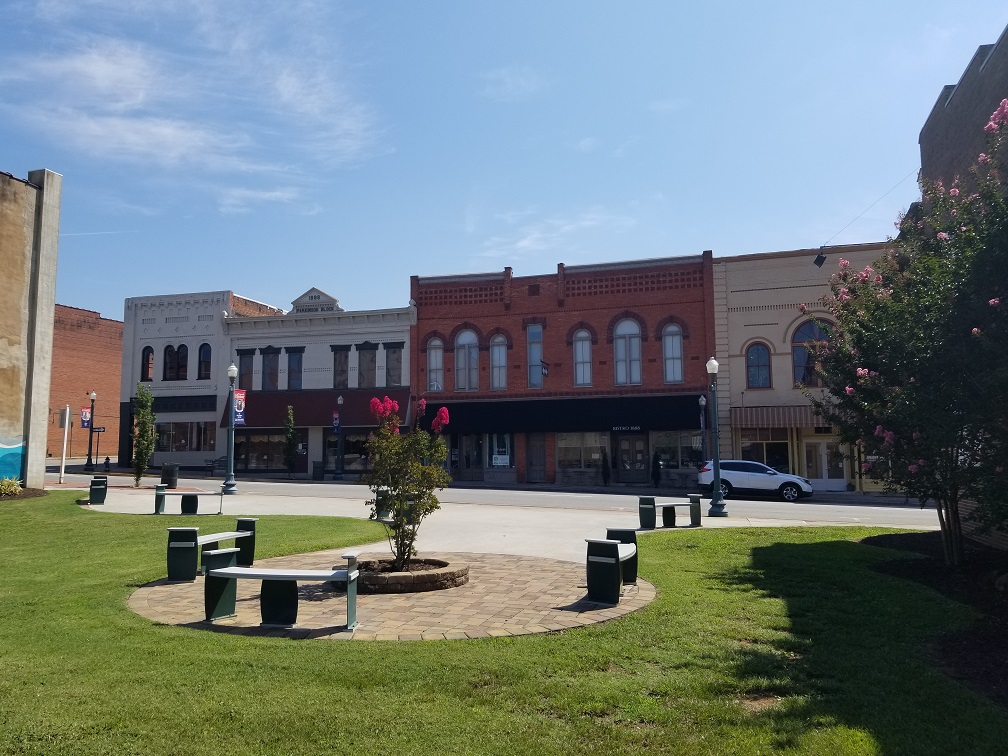 While enjoying my morning meal, I take a glance around and see smiling faces across the street as friends and family members enter Southern Plenty for scratch-made breakfast and lunch made with love, and old-fashioned desserts to satisfy any sweet tooth. During warmer months, I will sit outside with friends as we laugh together, eating sausage bowls and pancakes, watching the cars passing by and neighbors walking in and out of stores. Businesses are carefully conducting daily transactions at the South Boston Town Manager's office while Fincher's Appliance Store and other organizations conduct daily operations.
On the weekend you'll see men and women emerging from Executive Cuts or Cunningham Beauty & Barbershop with their fresh haircuts and styles. On Saturday and Sunday evenings, couples and groups of peers gather in merriment, delighting in food and drinks from Main Street Bar & Grill, a modern American-style restaurant with the best fries (in this writer's opinion) in the area. When talking with the chef, he told me how he decided on their unique, curled style of fried potato slices. He wanted to bring something innovative, inspiring, and tasty. And he did just that.
On Sunday mornings you will hear church bells nearby and choirs singing praises to God from the Presbyterian church on North Main Street to the United Methodist church at the corner to Iglesia Cristiana Casa Del Alfarero. South Boston is a place where diversity is growing and opportunities to be a blessing in the community continue to grow.
Community All Around
In the summertime, residents and travelers may see groups of people singing, worshiping, dancing, and hosting a variety of events at Constitution Square, our large, open grassy area with an elevated pavilion used by many for community initiatives and activities. Throughout the year, organizations host annual events like the Halifax County Cancer Society's annual Walk of Hope, memorable music festivals, and the South Boston Christmas Parade. I love how downtown connects the whole region. Cars travel north on Main Street to Sentara Halifax Regional Hospital and Hupps Mill Plaza and south into Riverdale, while other travelers venture south to Roxboro, east to Clarksville, or west to Danville. Downtown South Boston is the perfect uniting point to experience southern charm and attraction.
More Than a Town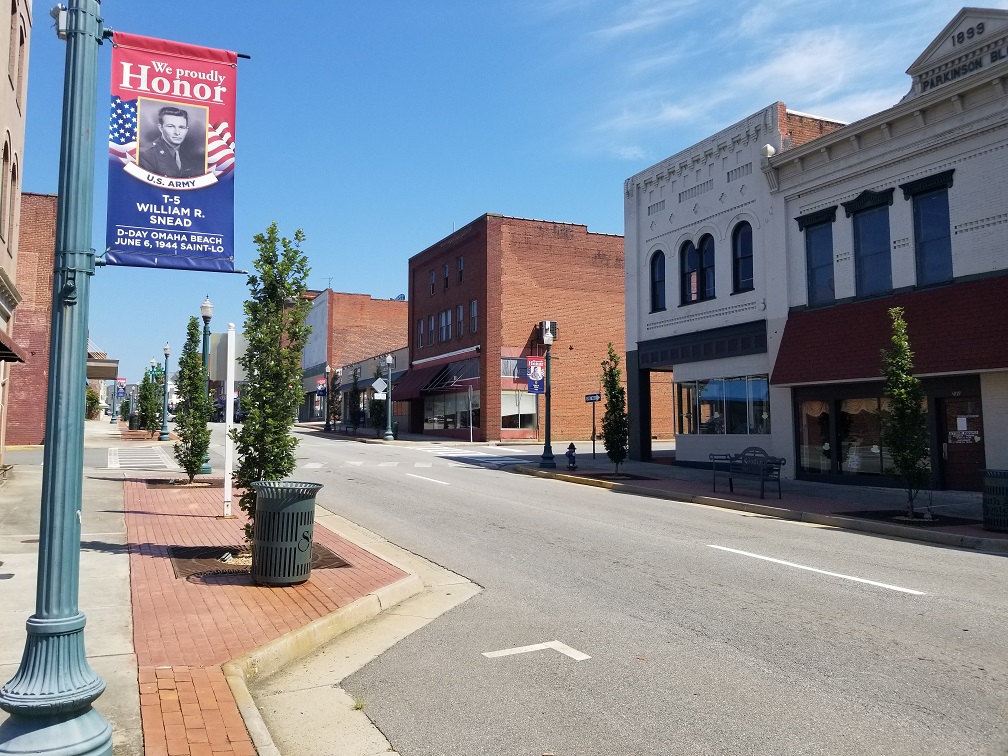 If you talk to someone from a larger city, they may say South Boston is a small country town – and I would not argue with them. However, I would add that this town is big enough to celebrate family members coming home, welcome new friends and visitors, and share traditions across cultures and generations. Although I cannot list every mom-and-pop shop in our area, I can invite you to visit downtown South Boston in person to view the quaint town beauty, savor exquisite cuisine, and experience the warmth of family and friends. So come visit us, and why wait? Come this weekend!

Destination Downtown South Boston
432 Main Street
South Boston, VA 23294
(434) 575-4209
info@downtownsobo.com
https://downtownsobo.com/
Deelynn Leigh is a native of South Boston, Virginia. She attended George Mason University where she earned her Bachelor of Arts degree in Psychology and English with a concentration in Poetry. Then she obtained her Master of Arts degree in Religious Education from Liberty University. Her writing can be read or heard in private and public settings. Deelynn remains passionate about her faith in Jesus Christ as she seeks to glorify God and encourage the world. Her books, Reverence (2023) and Lift Up: Inspirational Poems & Devotions (2022), are available online.